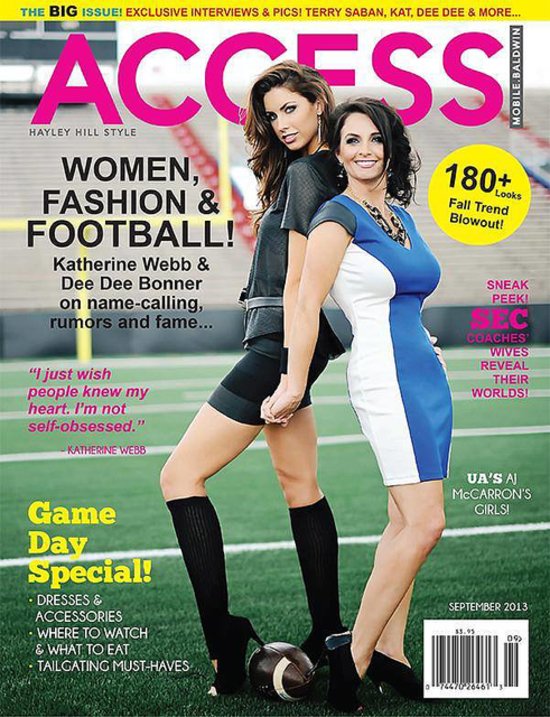 Who knew that four years ago, when I began this blog, that eventually I'd be interviewing Katherine Webb and Dee Dee Bonner? Or work for a former celebrity stylist and the founder of Teen People? I've come a long way, baby!
I've worked so hard to get to where I am now, and I don't plan on stopping any time soon. I still long for NYC–my dream of working for FabSugar or being the editor of Seventeen hasn't dwindled. There's still a fire inside of me to pursue my dreams, and our latest cover for ACCESS only fueled my ambition! It just goes to show that when you have a passion about something, you will meet your goals.
I didn't get to where I am right now from luck or a "big break." It took a lot of praying, and a lot of hard work. I took every single opportunity I could, whether it was working for free or working for low pay or a side gig. Most of the time, I was working more than one job (and still am) to either make ends meets or get closer to my dream job. It's been almost three years since I've graduated from college and I just now landed a great job. Things like this don't ever just fall into your lap. You've either made the right connections or you've shown determination to reach your goal. Or you did both. 
In Mobile, Ala., fashion is practically non-existent. Sure, we have a small community of fashion-minded individuals, and even an annual Fashion Week that raises money for charity. But let's be honest, it's not New York and it never will be. So when my husband announced that we'd be moving here before we got married, I wanted to die. Not that it was any better than my hometown, Hattiesburg, but I knew that, like Mississippi, there is no fashion scene in Alabama. I'm not implying that either of these states are horrible to live in. All I'm saying is that there aren't any fashion jobs, except retail. (And I don't count retail.) Was I going to turn out like my grandmother working my entire life in retail stores, end up moving in with my daugher because I have no health benefits, be pratcially confined to a recliner chair because I've stood on my feet my entire career, and watch my "stories" all day on TV? 
Then, through a former coworker, I found ACCESS, which was established two years ago by Hayley Hill. When I was in sixth grade singing along to Britney Spears's "Baby One More Time," my current boss was styling her. Yep, that's right! She's a former celebrity stylist, and yes, she did the denim duo. (Remember that?!) And when I was pouring over my glossies, little did I know that Hayley worked for three of them–InStyle, Teen People, and Us Weekly. I'm sure I have a few issues where her name appears in the masthead, though I haven't located them yet. By the way, did you ever watch Newlyweds? Yeah, Hayley styled Jessica and Nick, too. (Ok, gushing! I'll stop.) Anyways! Eventually she found herself moving to Mobile, Ala. After about a decade of being here, she established the Bay's first ever women's magazine–and the only outlet in the area for fashion-minded individuals like myself. 
ACCESS is a very small staff of around 5-6 employees, and even fewer are actually full time–I'm one of them. Somehow we pull together a fantastic issue every month, covering women's topics spanning from fashion to notable women in the area to events and other local interests. Our latest issue was on Women, Football, and Fashion. I was able to interview Katherine Webb and Dee Dee Bonner, which was an amazing accomplishment for me! If you aren't sure who these women are, they are the girlfriend and mom (respectively) to Alabama's all-star quarterback. Katherine Webb is now a Sports Illustrated model, and she's in an issue of Vanity Fair. In a man's world, she's right up there with Kate Upton! Dee Dee has also sparked some interest in sports fans–most men cite her as being a hot football mom. She's quick witted and down to earth though–definitely the kind of girl that women would want to hang out with. Long story short, our cover has ened up on Fox Sports, Yahoo Sports, and USA Today, among others. What an honor! Our small publication is on national news! How awesome is that? All of our long hours and hard work on our biggest issue ever certainly paid off. 
While I can't share the interview with you just quite yet, I would like to say that if you want to be updated on the magazine, follow us on Twitter @accessmag or like us on Facebook here. 
Recently, I read an issue of Glamour where they asked some employees what they'd be doing if they weren't working for the publication. Some answered creating floral arrangements or designing clothes, but for me, I wouldn't have that kind of answer. There is no other occupation that I'd rather have. 
I had another post set up for today, but coming hot off the heels of this success, I just had to share a personal post. I'll definitley be keeping you updated on my ventures with the magazine each month! As always, thank you for reading my blog!