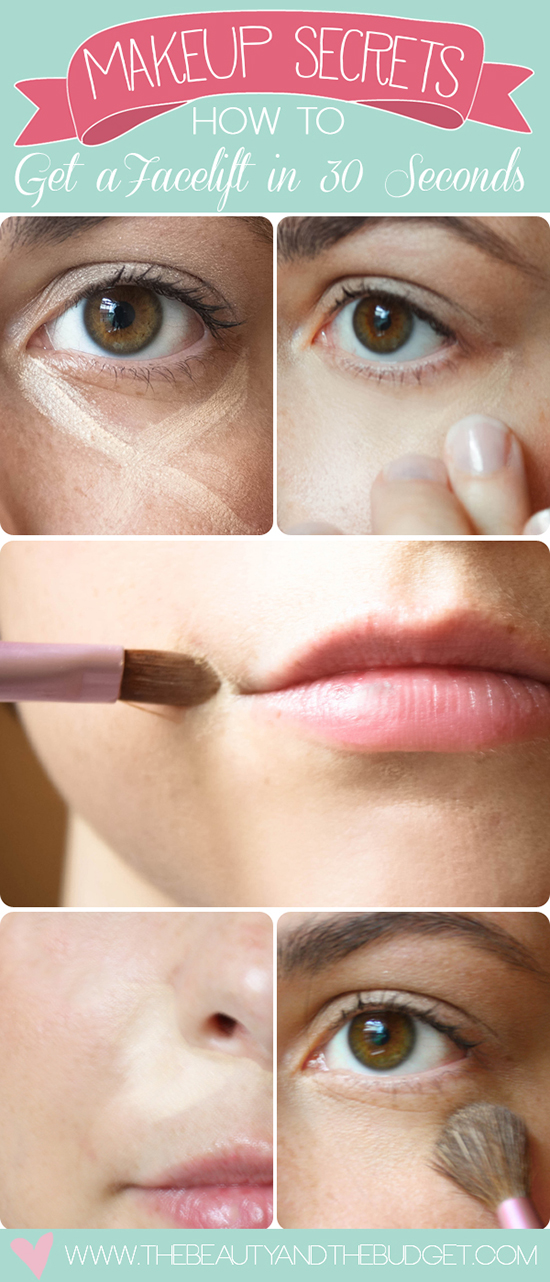 It only takes five simple steps to brighten and lift your face every morning! All you need is concealer and a makeup brush. I use the Mally Beauty Cancellation Concealer System in Light/Medium ($35.00 at  Beauty.com). It's expensive, but I definitely believe in investing in good quality makeup with staying power. Plus, just one set lasts for at least five months! Of course you can still use these steps with your favorite concealer.
Under the eyes. You probably already know to add concealer here, but you may not know the proper way to apply it. While most women make the mistake of putting it on in a circular motion around the eyes, the best way is to actually make an "x" under the eye. This will help you avoid the raccoon look! Gently pat in using your ring finger. (Why the ring finger? It applies the least amount of pressure to this already-delicate part of your face.)
On the outer corners of the eyes. Here's where you're really going to give your face the ultimate lift. This is also perfect to wake up your face first thing in the morning! Using an upward motion with your makeup brush, swipe a little bit of concealer on the outer corner of each eye. Lightly pat in.
On the outer corners of the lips. Dab just a little bit on each side in upward strokes to instantly lift your face!
Around the nose. This area of my face always tends to have a red tint to it. A dab of concealer on each side will do just the trick!
Set with powder. Here's the secret to getting your makeup to last longer! The Mally palette I use comes with a setting powder, but you could just buy a makeup compact with a traslucent or fair-toned powder. 
Will you be trying this at home? I'd love to see the results if you do!