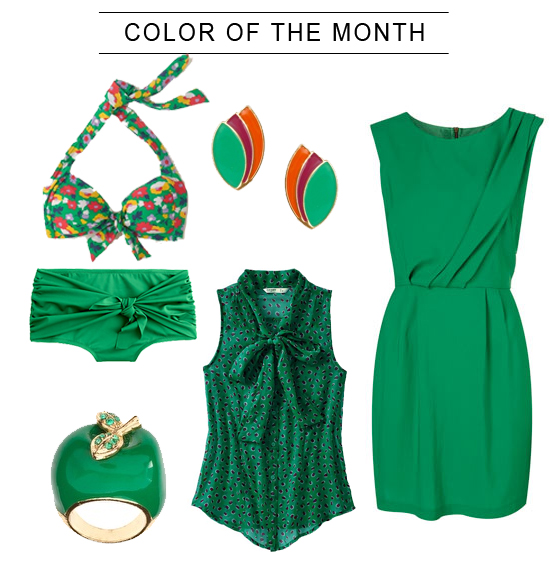 This month on Beauty and the Budget, we're going green--emerald green. Emerald green was most beautifully displayed on the runways of Elie Saab and Carolina Herrera. You can punch up your wardrobe by adding a pop of emerald green, or go all out and buy a bold dress or top in this color. Thankfully this attention-grabbing color of the moment looks fantastic on most skin tones, and it's sure to win compliments!
This green bikini is playful and fun, and it's even a mix and match from two different stores! Get the Retro Bikini Top for $34.00 at Boden, and wear it with this Tied retro brief for $39.99 at J.Crew. If you aren't quite smitten with the color, dabble a little bit in these fun accessories, like the Pieces Filigran Stud Earrings ($12.73 at Asos) or the Pieces Dolly Apple Ring ($12.73 at Asos).
For a more bold approach, try the Women's Printed Bow-Tie Chiffon Tops for $24.00 at Old Navy. The print definitely adds an extra element of flair, and it would look fantastic paired under a navy or black blazer. If you have a wedding or another fancy event to attend, I recommend investing in this classic Tuck Neck Shift Dress ($95.00 at Topshop). It's such a winner!
How do you style emerald green? Let me know in the comments below!