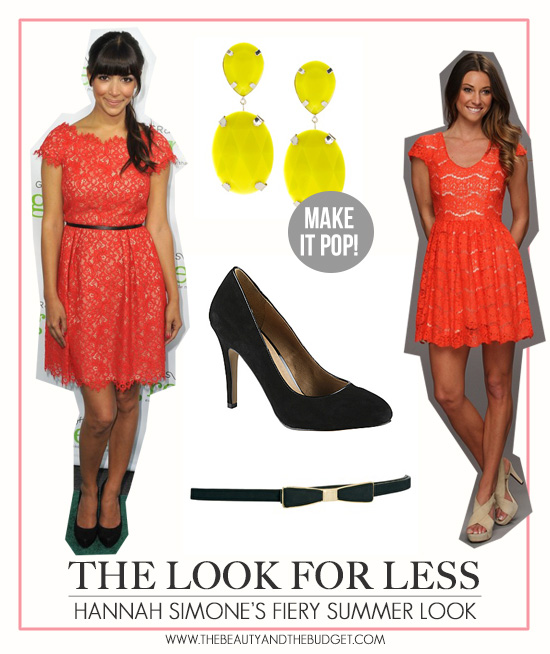 I really adored Hannah Simone's Shoshanna dress at the Verte Grades Of Green's Annual Fundraising Event! The bold color was what originally caught my eye, and then I also loved the scalloped detailing around the shoulders. I knew it would be a fairly simple look to recreate, and I wanted to share it with you all!
The outfit has a fairly simple foundation--a fiery orange/red lace dress that is bold enough to stand out on its own. I'm glad she paired it with just a black belt and black pumps, because she could've gone overboard otherwise. Either way, I still thought the look needed something extra, which is why I added the statement earrings. The outfit, while amazing, was lacking in the accessory department. If you decide to recreate this look on your own, opt for a statment necklace or a bold clutch to give it that extra oomph.
I love that she finished the look with a glam ponytail and a simple beauty look! It makes the whole outfit seem really effortless. 
Shop the look below:
Kensie - Dress KS3K9011 (Terracotta) ($99.00$59.99 by Kensie at 6pm.com)
ASOS Gem Drop Earrings ($13.30 at Asos)
Boyntonbeach ($80.00$40.00 at Aldo)
ASOS Bow Belt With Metal Plate Waist Detail ($13.30 at Asos)