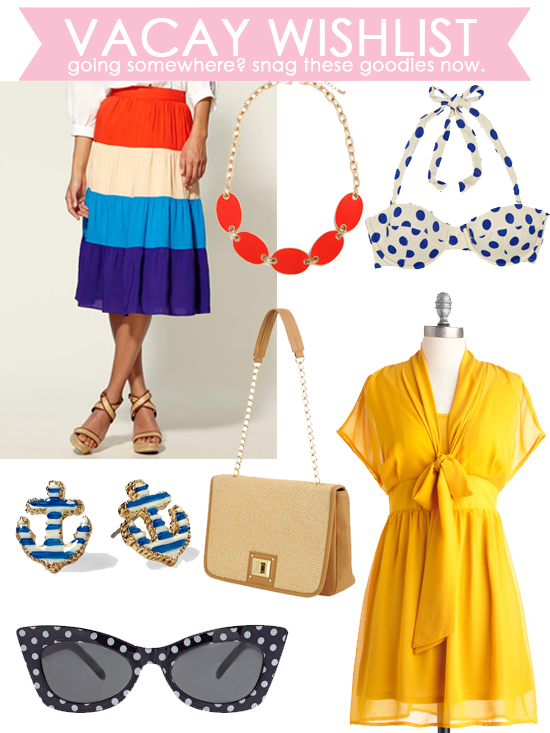 Whether you're a college student waiting for spring break or a corporate executive ready to take your paid vacation, Beauty and the Budget has rounded up a few essentials you'll need for that beach getaway.
I'll be going to Charleston, South Carolina, in a few days to see my fiance, and we are definitely going to hit up the beach if the weather is permitting. Either way, I am definitely adding the items above to my vacation wishlist!
Play in the sand wearing this adorable J.Crew Drew polka-dot bikini top (on sale for $20.80 at theOutnet), and don't forget to protect your eyes with a fabulous pair of shades, such as the ASOS Polka Dot Cat Eye Sunglasses ($21.49 at Asos). (A lady can never have too much of polka dots.) For your relaxing evenings out to dinner, a bright dress is definitely on order. You can't go wrong in a pretty yellow frock, so try this Tart and Soul Dress ($49.99 at ModCloth). Finally, stripes are back this season, and they are bolder than ever! Who could ever pass up this Chandi and Lia Colorblock Striped Skirt ($49.00 at Piperlime)? It's the quintessential colorblock skirt for summer!
Shop the rest of the look below!
Where are you going on vacation?
<iframe width="550" height="244" frameborder="0" scrolling="no" src="http://widget.shopstyle.com/widget?pid=uid3796-748714-92&look=4879361&width=4&height=1&layouttype=0&border=0&footer=0"></iframe>