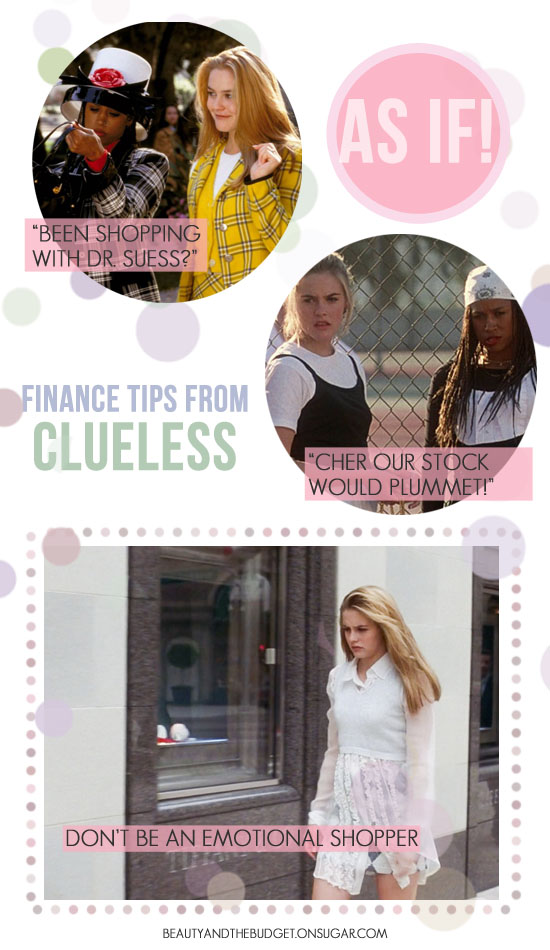 Who knew you could take financial advice from Clueless? The movie is hyped for its fashion and entertainment value, and her "way normal life" is coveted by all. Let's face it, most of us want an unlimited shopping budget and a mansion in Beverly Hills, but before you go out and shop 'til you drop take heed to some of these financial lessons from the fabulous Cher Horowitz. 
Avoid making "trendy" purchases. The Dr. Suess hat Dionne wore in the movie was so cool at the time. I remember being like 12 years old, imagining that I had on that exact outfit. But now, nearly 20 years later, that hat looks absurd! Trends are nice to indulge in, but when you buy items that are too trendy and of-the-moment, you might just end up with buyer's remorse.
Make wise investments. Dionne wasn't up for giving Tai a makeover because she considered it a risky investment. But in real life, whether you're looking at investing in actual stocks, saving for retirement, or buying a genuine leather bag, it's always best to determine the long-term worth of what you're investing in. 
Don't be an emotional shopper. After Tai tells Cher she's "just a virgin who can't drive," Cher is completely mortified. Instead of dealing with her emotions head on, she goes on a huge spending spree until she figures everything out. Shopping is her way of thinking about her problems and spending is how she perks herself up after a down day. This is, naturally, a bad habit for anyone, unless they have an unlimited amount of money to spend on their daddy's credit card. Instead of buying something to make yourself feel better, try taking a walk--and not to the mall. Take a walk in the park, talk to a friend, go for a drive, ride a bike--do something other than spending money. That won't make any of your problems go away. Instead, you'll have less money and could become more stressed. And trust me, I'm so guilty of doing this! But I've finally gotten into the habit of taking my emotions out of the purchase and really evaluating why I'm buying something if I am in a bad mood.