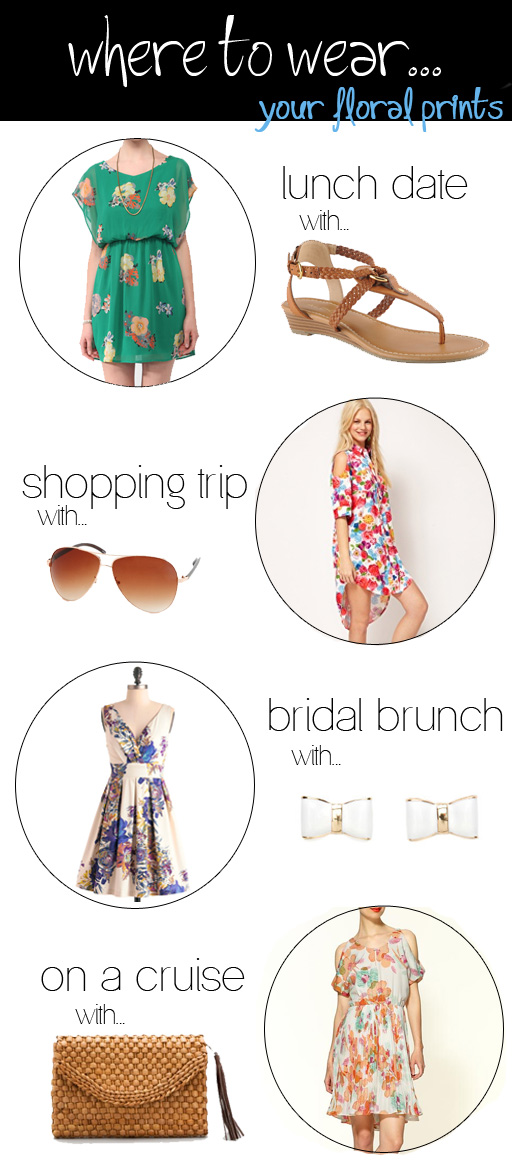 Clearly, floral print will be popular for the spring and summer months. Thankfully the pattern has also seen increased popularity during the fall months, as well, increasing its versatility. One of my favorite options for spring and summer dressing is a floral dress. I prefer the loose, flowy ones that lightly sway in the wind. They ooze of spring and cool air. And when it gets scorching hot in the summer, they're the perfect option to keep you cool.
So, how should you wear floral dresses this summer? Above are some great options.
For a lunch date with your girlfriends or your beau, pair this Floral Print Blouson Dress ($24.80 at Forever 21) with these Lawrance sandals ($50.00 at Aldo). The dress has a fancy silhouette and a bold pattern, but the cognac brown sandals balance it out just enough to make it casual for day.
Here's an interesting option that can be worn for more than just a shopping trip, but would still be cool for that ocassion nonetheless: the Shirt Dress In Tropical Print ($46.40 at Asos, marked down from $66). It's a great price point for a trendy, seasonal dress, but it makes such a statement! Wear with a pair of aviators for an effortlessly cool look. Try these Classic Metallic Aviators ($5.50 at Charlotte Russe).
At a bridal brunch nothing is classier than an A-line frock, and I totally love this china-patternesque print on the Floral Palate Dress ($54.99 at ModCloth). It's fun if you are the bride to be or if even if you're just an attendee! Really play up this look by going for a Mad Men inspired look by wearing your hair up and complimenting your dress with these lady like the Enamel Bow Stud Earrings ($6.00 at Charlotte Russe). This look is definitely my style!
Finally, if you're going on a cruise wear a fancy floral dress, like this MM Couture Floral Pleated Dress ($89.00 by Miss Me at Piperlime). It's pretty enough to wear again and again. And if you're styling your look for an upcoming island excursion or a cruise dinner, pair it with a great straw clutch, such as B11071 by Straw Studios ($28.95 at Lori's Shoes).
Where do you wear your floral prints? Let me know in the comments!