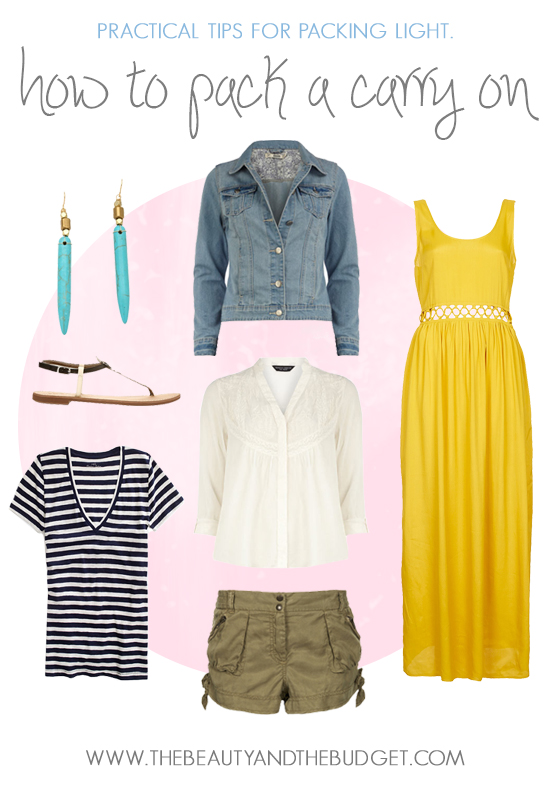 Whether I'm going to New York City for three days or the Virgin Islands for a week, I only pack a carry on bag. I attribute this to constant paranoia that my luggage will get lost in the hands of others, but either way, it's a good thing to pack light. Not only will your significant other be happy you didn't bring three suitcases for him to carry, you also learn to pack only the essentials. And that's really all you need, isn't it?
It's a lot easier to pack a light carry on during the summer months because you won't need those heavy items like sweaters, coats, and boots. But you can apply these same prinicples no matter what the season. The overall key to packing light is to really make sure that most of the items in your suitcase coordinate together. So in the spirit of packing light, here's how you can pack your carry on for that sweet summer vacay!
<p>
How to Pack Light:
Use makeup cleansing wipes instead of your normal cleansing products. I use Meaningful Beauty skincare products (Hey, who doesn't want to look like Cindy Crawford?), and I honestly hate using anything else. But I have to be realistic when I travel, which means axing all of those liquid cleansers and face masks. 
Pack dresses. Why? It's a complete outfit, which means less items in your carry on. Be sure to pack versatile dresses that you can dress up or down with the right accessories. 
Add on versatile accessories. Jewelry can be a fairly light item to pack, but the problem is that it can get really tangled up. When you're going on vacation, be sure to pack a set of versatile accessories that you can wear with every outfit. A super cool statement earring is always an excellent choice!
Bring lightweight tees and tops. Lightweight tees and tops are an obvious choice for this list! I suggest bringing a few high quality lightweight tops that you can wear more than once, if needed.
Bring comfy shoes! If you're an adventurer, you'll need a comfortable pair of shoes to go exploring. I highly recommend Toms! My Toms have been all the way to the ancient Mayan ruins in Mexico to the Vatican in Europe. And I even hiked in them to a tidal pool on our honeymoon in the Virgin Islands! 
Bring bottoms you can mix and match. Maxi skirts and denim shorts are completely perfect for vacation--plus you can mix and match them with other items in your carry on.
Pack a stylish pair of flats. You need your beach sandals, but you also need a chic pair of sandals or flats for your shopping trips and other daytime excursions. Just make sure they're a neutral based shoe, like nude, black, or brown, so that you can easily match it with all of the items in your suitcase.
<p>
Wear on Board:
Your heaviest items. Since the airplane is usually cold, it's always best to just wear your coat on board. During the summer, you probably won't need a coat for vacation, but you may still want to bring a rain jacket, just in case, or a classic denim jacket. Also try to wear your bulkiest shoes, even if they're heels. Comfort won't matter too much since you'll be sitting down most of the time. 
Carry a huge purse. I usually carry my London Fog Tote, 16" Oxford II (

$100.00

$49.99 by London Fog at Macy's). Not only do I have the matching carry on, but the bag is absolutely perfect for airplane travel. The last time I traveled, I actually packed my daytime purse inside of the London Fog tote. If you find a decent sized tote, you can also get away with carrying leftover items that didn't fit into your carry on--like a hairbrush, straightener, etc. 
Your most cherished jewelry. I hate it when my accessories get tangled, so I recommend wearing your favorite jewelry, especially necklaces and earrings, on board so you don't have to pack it in a Ziploc!
Your accessories. Wear your scarf, sunnies, and/or your hat on board with you so they don't get smashed or wadded up in your carry on!
SHOP BEAUTY AND THE BUDGET'S SUGGESTIONS:
Vanessa mooney Oleda Earrings ($40.00 by Vanessa Mooney at shopbop.com)
Blue light wash denim jacket ($59.00 at Dorothy Perkins)
Lace Up Waist Maxi Dress ($92.00 at Topshop)
Vaughn T-Strap Sandals ($29.50 at LOFT)
Ivory embroidered smock top ($44.00$27.00 at Dorothy Perkins)
Factory layering v-neck tee in stripe ($32.50$16.50 at J.Crew Factory)
Tie Side Casual Shorts ($60.00 at Topshop)