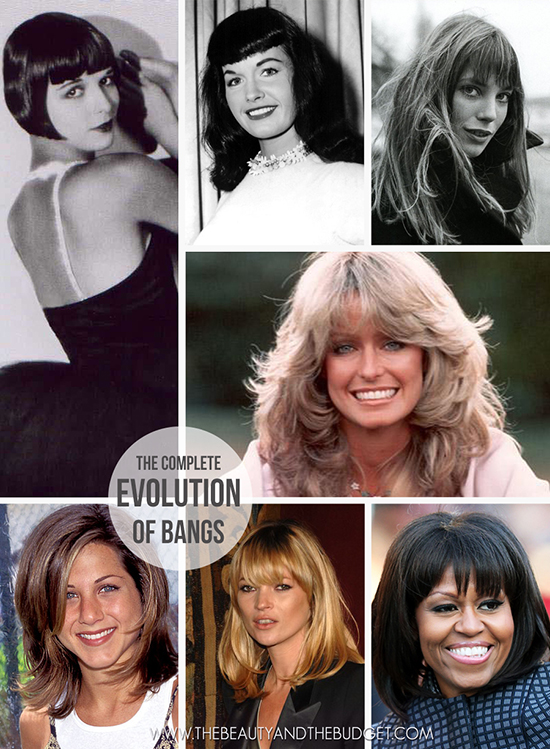 I've had bangs (or fringe) since I was about 15 years old, and I can't even imagine being without them! Inspired by my affection for style, I've researched the evolution of bangs.
1930s: Finger waves were an extremely popular hairstyle during this time, but the most influential bang-wearer of this decade was undoubtedly Louis Brooks with her blunt bangs. It was classic yet edgy. 
1950s: A short, curled over bang (much like Katy Perry's today) was super popular during the fifties. Here, Bettie Paige sports the most popular bangs of the time--slightly angular with a little curl for body. 
1970s: Jane Birkin was effortlessly cool with brow-length bangs and long straight hair, quite an outstanding contrast from the 1950s. 
1980s: Bangs got totally big. In the late 70s and early 80s, Farrah Fawcett's iconic hairdo inspired ladies everywhere to have big poofy hair and super curly bangs. 
1990s: Jennifer Anniston's widlly popular hairstyle introduced the side-swept bangs! In the early 90s, bangs were still big and bold but as the decade moved on the popularity of noticeable bangs decreased. A side-swept bang was really the only way to go during that time!
Late 2000s: Kate Moss brought bangs back in 2007! She opted for trendy, straight across bangs with straight hair, and the bang revival began. 
Today: There are several popular styles of bangs today, but a popular style is Michelle Obama's classic fringe!