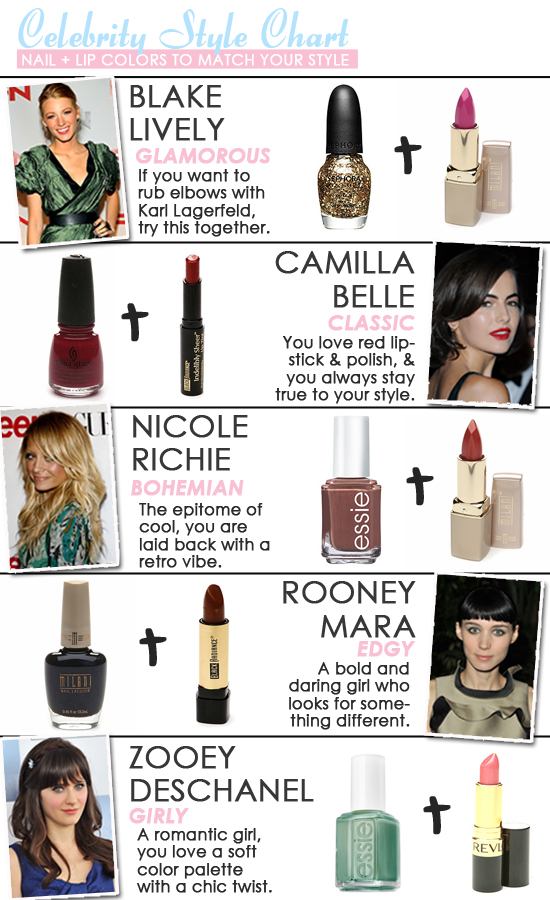 Are you a bohemian, classic, or girly beauty? Do your style inspirations come in the form of Nicole Richie or Diane Kruger? Who cares?!
No matter what your style personality, Beauty and the Budget has a nail and lip color combination that is perfect for you. Whether you consider yourself daring or traditional, these nail and lip combos will add that extra pop of beauty that you need to emphasize your already stellar style.
These fabulous pairs work perfectly for day and night, and don't be afraid to mix it up. Trying to rev up your uber feminine style? Steal black polish from an edgy beauty. On the flipside, if you want to tone down your edgy style, opt for a pale pink polish shade.
Follow the chart above and choose your celebrity style personality according to what celebrity you're most like. Then take a look at your suggested nail and lip shades. Shop the suggestions below, and click on images for more information.
<iframe width="550" height="244" frameborder="0" scrolling="no" src="http://widget.shopstyle.com/widget?pid=uid3796-748714-92&look=4511988&width=4&height=1&layouttype=0&border=0&footer=0"></iframe>