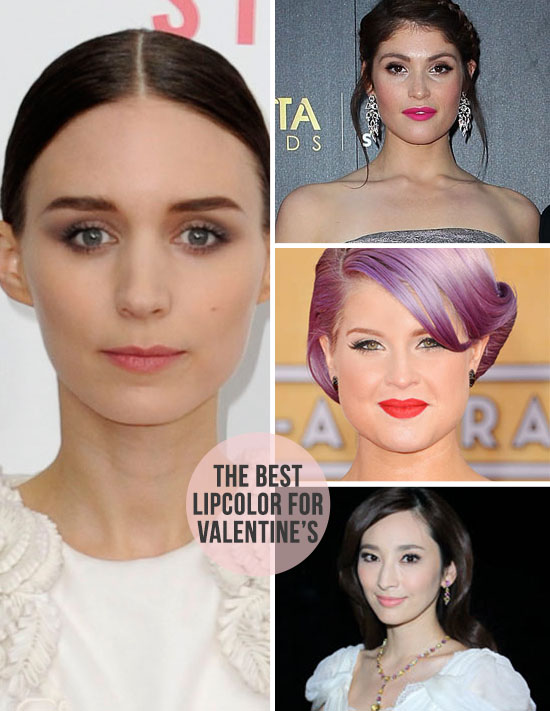 It's time to get your pout ready for Valentine's Day! To find the right lip shade for the special day, I took inspiration from the Red Carpet, and these beauties were spot on with their lip shade.
If you want something a little more natural, I suggest trying out Rooney Mara's elegant look or Pace Wu's peach lip. For Rooney Mara's look, I would try a soft pink lip liner and then, using a lip brush, dab on a hint of gloss. A great natural pink shade is MAC Cremestick Liner in Pink Treat ($15.00 by M·A·C at Dillard's). For Pace Wu's peach lip, opt for L'Oreal Colour Riche Lipstick, in Peach Fuzz ($8.95 by L'Oreal at drugstore.com). 
If you want a bold pink lip, Gemma Arterton's look is absolutely stunning! I'm a huge fan on bold pink lip colors, and the shade she's wearing is no exception. Try the FOREVER 21 Crème Lipstick in Hot Pink ($2.80 at Forever 21.) It's a great deal, and it's a great match to Gemma's color!

Though I'm not the biggest fan of Kelly Osbourne's hair, I simply cannot get over this lip color. It's absolutely fantastic! It's bold and seductive, and let's not forget that red is a great shade for everyone. (If you aren't sure which shade of red is good for you, check out my guide on choosing the right red lipstick.) To get this look, search for red-blue lip colors, like MAC Lipstick in Russian Red ($15.00 by M·A·C at Dillard's). 
Will you be wearing bold or bright lip color for Valentine's Day? Let me know in the comments!