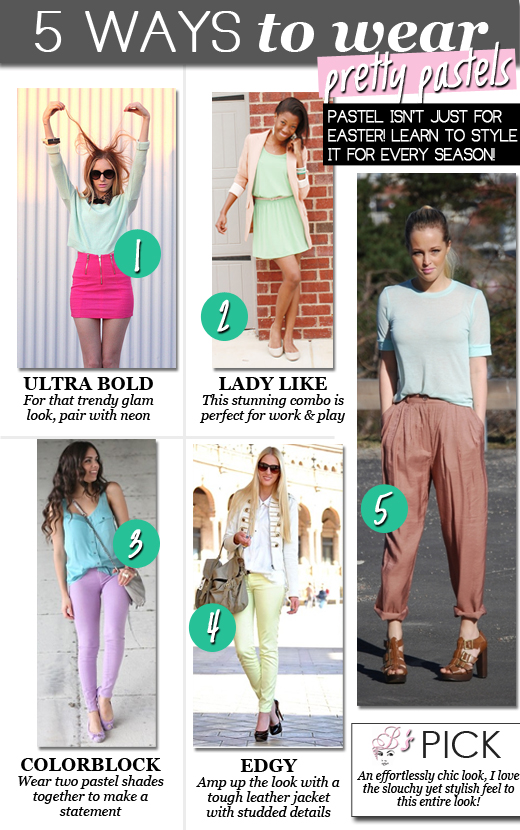 Lady-like pastels are so on trend right now for summer, and with proper styling, I'm convinced they can work for everyone! How should you style pastels? Pick your favorite from the choices above, and see the corresponding how-to below!
Ultra bold. If you want to make a serious statement, pair your pastel shades with another hot color trend right now--neon! I love the mix of this baby blue top with the neon pink skirt.
Ladylike. This color combination of soft mint green and light pink is absolutely fabulous. Bonus: This look can work for so many different occasions, i.e. first date, work, movies, church, etc.
Colorblock. Do you love this trend as much as I do? Colorblock your pastels for a sweet take on a bold trend. I love this pairing of light blue with light purple.
Edgy. A motorcycle jacket toughens up any look, even when it's paired against a buttery pastel yellow. This look is so perfect right now, especially for those who are still experiencing slighlty cold weather but want to embrace the warmth of summer with bright colors.
B's pick-Effortlessly cool. Here's my favorite of all, an effortlessly cool way to wear pastels. I love the slouchy pastel blue tee paired with the brown pants so much, that I even recreated the look on my last shopping trip! I added a bit of arm candy and a sweet necklace, too!